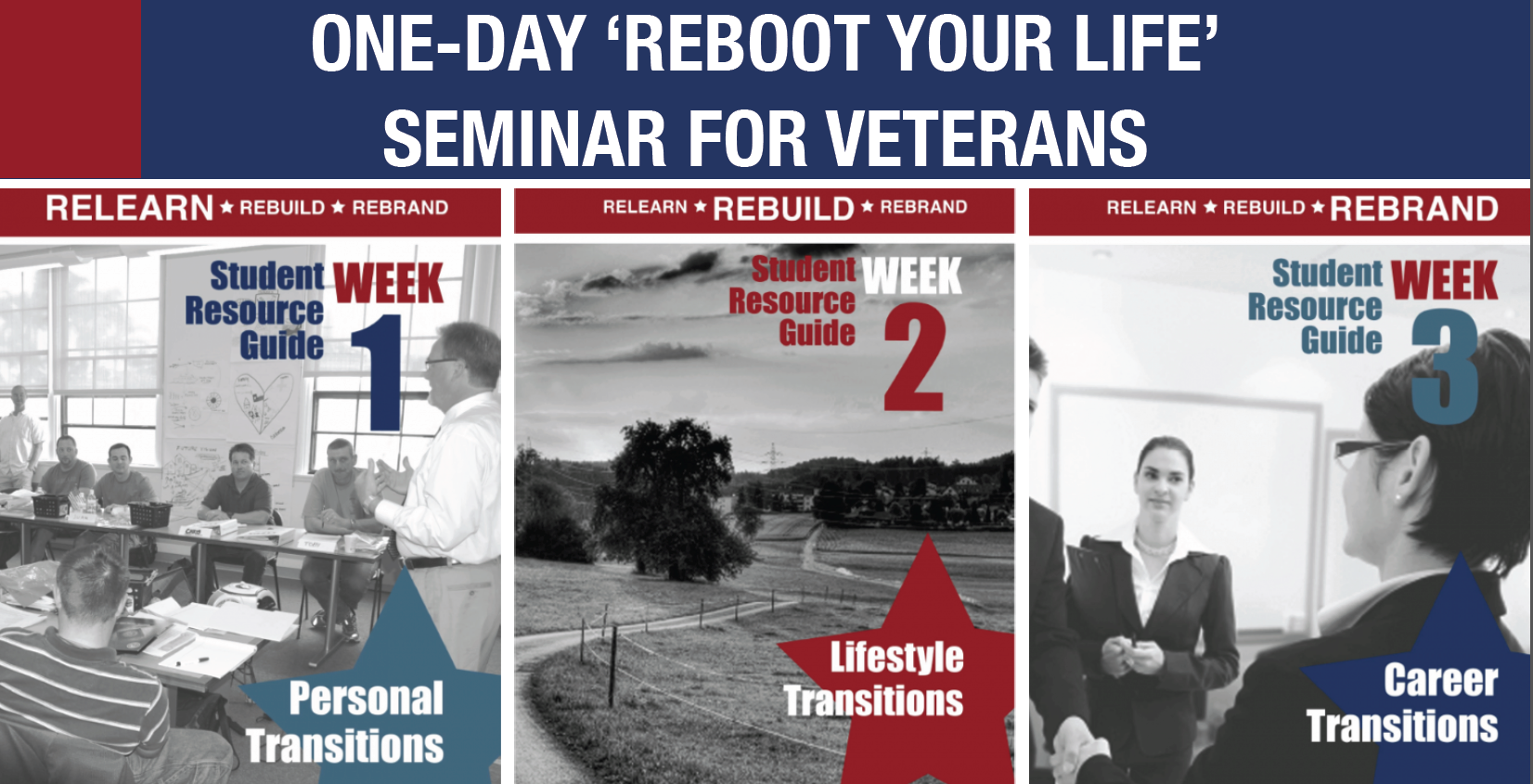 Story by Krishna M. Jackson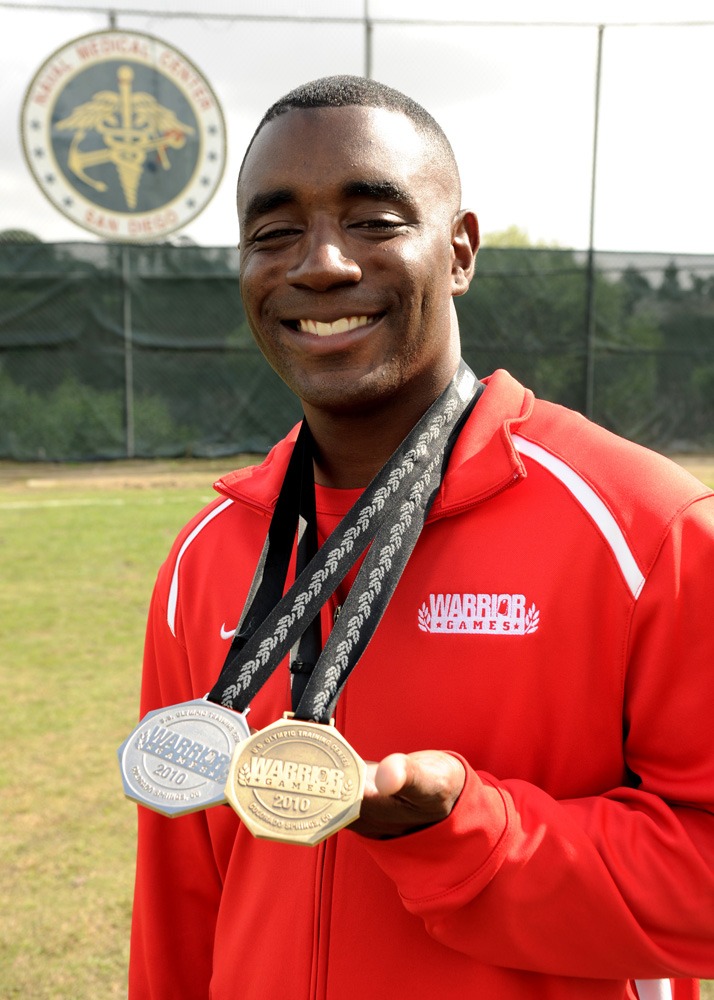 U.S. Navy photo by Mass Communication Specialist Anastasia Puscian.
Marine Corps Sergeant Michael Pride graduated REBOOT Workshop as part of Class 2 in August 2010.  Michael was preparing to leave the Marine Corps after being medically evaluated for injuries he received in Afghanistan when his vehicle was rolled over by an improvised explosive device, pinning his left arm under the vehicle causing him to almost lose his arm.
"I was diagnosed with PTSD and a Purple Heart recipient and I had to go through two and half years of rehab." said Michael in a DODLive video blog.
Michael received treatment for his injuries at Naval Medical Center San Diego, NMCSD.  He was featured in a blog written by NMCSD's commanding officer, Rear Adm. C. Forrest Faison III for his tenacity in supporting his own recovery through occupational therapy and athletic competition.
"Cpl. Pride is a Purple Heart recipient but has never let his injury prevent him from doing the things he loves. He has participated in adaptive winter sports (sled hockey and snowboarding) coordinated through NMCSD's Balboa Warrior Athlete Program (BWAP) and in May 2010 was recognized as the "BWAP athlete of the Quarter." In July 2010 he was awarded the "Your Spirit Inspires Award" by the Disabled Sports America, Far West, given to an individual who demonstrates leadership and determination throughout a week of recreational therapy. During the Paralympic Sport Camp in Newport, Rhode Island, Cpl. Pride was given the "VISA Leader of the Day Award" recognizing him for his leadership, good attitude and ability to motivate the other athletes," said Rear Adm. Faison in his blog from Nov. 1, 2010.
While undergoing physical therapy at NMCSD, Michael attended REBOOT to help him prepare to transition out of the Marine Corps. He was working hard to achieve normalcy in his life and had appealed to the commandant of the Marine Corps to stay in and pursue his passion as a Marine. Next to his family, he knew serving as a Marine was his other passion in life.
"I was thinking about 'what can I do to stay in' and when I left REBOOT all my paperwork was coming back telling me I was pretty much leaving on this date," said Michael.
Remaining on active duty may seem contrary to what REBOOT's purpose is but REBOOT helps with more than just transitioning from military to civilian life. The curriculum in the second week of REBOOT teaches students to identify their personalities and what careers they are best suited for. Michael realized his path in life was to serve his country. Michael couldn't and wouldn't let go of his dream to stay on active duty in the Marine Corps despite how everything and everyone seemed to tell him it was inevitable he would be leaving.
In September 2010 Michael received the response he had been waiting for. The Commandant of the Marine Corps granted him permission to continue serving on active duty.  Even though REBOOT is a transitioning program, Michael has applied some of what he learned to life on active duty.
"It [REBOOT] gave me the confidence to be able to speak in front of people. To be confident about what I'm saying. Also being injured in combat I had a wall built up and if you weren't a combat veteran like me I didn't think you would understand. REBOOT helped me settle down and get back into the swing of things and gave me the confidence to share my story," said Michael.
Michael set a goal for himself back in 2010 to be an instructor at Motor Transportation Instruction Company, MTIC Fort Leonard Wood, Missouri.  Today he instructs the Motor Transportation Operators course there and intends to make the Marine Corps a career. Focusing on a goal and working toward it is one of the corner stones of REBOOT's program to help students succeed. Michael achieved his vision by tapping into his self-efficacy.
Even though Michael considers himself blessed to have the opportunity to continue with his career in the Marine Corps, he encounters many Marines who don't have the opportunity to remain on active duty. Since Michael's experiences have taught him valuable lessons about how to overcome adversity, he is in a unique position to offer advice to help others transition because he was there on the edge of transitioning himself.
"My advice to them [transitioning Marines] is to just stay the course. Basically when I was trying to relocate into civilian life I was a little scared because I didn't know what I was going to do but REBOOT helped me and there are resources out there to help them. They just need to be open and to reach out to them, " he said.
There's a saying in the Marine Corps, "Once a Marine, always a Marine," and Michael will never forget those words even after he hangs up his uniform upon retirement. He will remember how hard he fought to follow his passion when others said it was impossible.  REBOOT helped him realize anything is possible.
"I wouldn't be where I am today if it wasn't for REBOOT," Michael said.
REBOOT has now served more than 1,000 veterans and transitioning service men and women.  It has proven itself time and again through the successes of its graduates. The program provides life skills to help those who once relied on the military for structure and support but now must rely on themselves and the much smaller and widespread support networks of civilian life.