httpvh://www.youtube.com/watch?v=lGzBXUHKI_g
The military culture, as many veterans have lived and worked within, is a subculture of mainstream America. Veterans have lived and worked on military bases and installations, ships, submarines, and in tents; they ate meals ready to eat (MREs); and most have moved a lot (some move every year for 20 years). The civilian world has a different language and a different culture that a veteran must re-learn to navigate, in order to have a successful transition. As a result of this cultural difference, veterans have difficulty in obtaining and maintaining employment. NVTSI developed "REBOOT Workshops™" to help veterans in making this cultural shift.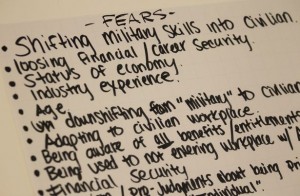 REBOOT Workshops™ are designed to assist members of the military in making the social and career transition from years of service by addressing their fears and "re-booting" their skills. The workshop features three weeks of education designed to enhance and build upon their training, experience and skills to prepare them for life after the military.
REBOOT Workshop™ Features:
Week I – Military-to-Civilian Personal Transition. 
Addresses the Transition Domains of personal effectiveness and wellbeing.
Spanning 13 multi-media modules, and utilizing video and audio sessions, written materials, exercises, practice interviews and self-assessment tools to help participants understand how their mind works for-and-against them, this segment provides attendees with the tools to help them manage positive and negative thoughts, unlock their potential and achieve any goal they set.
Week II – Military-to-Civilian Lifestyle Transition.
Addresses the Transition Domains of living situation and community-life functioning.
This segment provides a series of discussions and exercises that enable the participants to identify the personal aspects of values, talents and strategies to develop a plan to achieve a meaningful purpose and vision in life.
Week III – Military-to-Civilian Career Transition.
Addresses the Transition Domains of employment, career and education.
This session goes beyond the workshops offered by traditional transition programs offered at the time of separation. Here participants are given in-depth assistance on job preparation, resume writing, interviewing techniques, job searching, and career planning through goal setting. They also take career assessments to help determine what career after the military is their best fit and participate in mock interviews with real HR professionals to hone their newly acquired skills.
Upon successful completion of this intensive 15-day seminar, graduates are provided with: