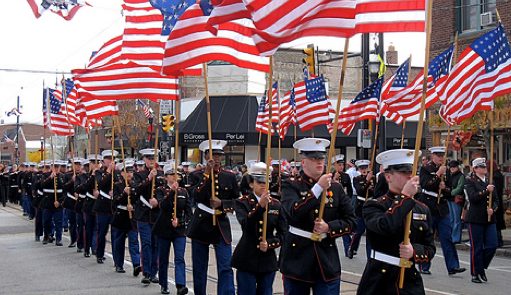 On public holidays, Americans salute their military. This Fourth of July will be no exception. In big cities and small towns across America, families will line the streets to watch Fourth of July parades, and sports stadiums around the country will bring veterans of all ages to center field, lighting up the skies with fireworks and paying homage to our military heroes.
Then the fireworks will be over, the parades will have passed by, and most Americans will return to their daily activities, with little attention paid to veterans and families until the next parade.
With less than one percent of American having served on the battlefield, most don't have personal connections to those who have served. And hundreds of thousands of those who have served are coming home: some 250,000 men and women in uniform are now transitioning each year to civilian life.
Veterans and their families want a return to normalcy when they return home. But the military culture that serves to protect men and women while in service does not mesh with nor well- prepare them for civilian life. For far too many, their new neighborhoods are foreign, their families are estranged, and they are out of sync with what used to be home.
Ask veterans what they want and most will say that a return to normalcy starts with meaningful employment. American corporations and small businesses have admirably set significant targets for hiring our returning veterans and veteran unemployment continues to fall. Yet 50 percent of veterans leave their jobs within a year and 65 percent do so within the first two years. Forty seven percent of post 9/11 veterans report they are not working in their preferred career field.
San Diego's Operation REBOOT started by the National Veterans Transition Services, has become a model for how to help veterans achieve what they are looking for. The focus is not just on hiring but on finding the right fit. REBOOT personnel understand both the military culture from which veterans are emerging and the civilian culture that they are about to enter. At the heart of REBOOT's Centers for Military and Veteran Reintegration is a free, three-week workshop, designed to holistically address transition from military to civilian life. Going far beyond typical career transition programs, participants are given in-depth re-socialization training that culturally prepares them for civilian life after the military. They also undergo career assessments to help determine what career after the military is their best fit, and participate in mock interviews with real human resource professionals to hone their newly acquired skills. The results: for the past six years, REBOOT's graduates have shown a 97 percent placement rate into gainful employment or post-secondary education, and 89 percent second-year job retention.
REBOOT works with many local partners to achieve their goals. One such partner is Vets' Community Connections (VCC), a new national initiative with pilot community programs in San Diego, Maricopa County (Phoenix), Arizona and St. Joseph's County (South Bend), Indiana. VCC is based on the premise that many more Americans, from all walks of life, can devote whatever limited time they have to help veterans and military families build the new community networks they need to succeed in civilian life. Within the three pilot communities, VCC is stitching together effective community coalitions – local Chambers of Commerce, elected officials, VISTA volunteers, SalesForce databases, local veteran and military family organizations, media outlets, civic groups and community volunteers from teachers to dentists to Little League coaches – all working together. Local 2-1-1 call centers are the force multipliers, linking veterans and families with those in the community ready to take their calls to answer reintegration and relocation questions. Taken together, REBOOT and VCC are addressing the small but very real needs of veterans and family members — how everyday Americans can use what time they have to help returning vets and their families translate interests into careers, and linking vets and spouses with fellow citizens already pursuing those careers: new local contacts who can help veterans or family members decide whether a particular career path is really for them (and, if so, how best to pursue it).
Almost eighty percent of all new jobs are never advertised, but found thru personal connections. REBOOT and VCC are just two of the new initiatives taking root in communities to help bridge the civilian-military divide with practical, pragmatic steps that give veterans and their families tangible links to real people, meaningful employment and new community networks.
Who are those real people? That's all of us. Something not just to think or talk about but to act on between the parades.
Retired US Navy Master Chief Petty Officer Maurice Wilson is co-founder of OPERATION REBOOT. Former Assistant Secretary of Defense for Public Affairs Doug Wilson and organizational management specialist Kari McDonough are co-founders of Vets Community Connections.