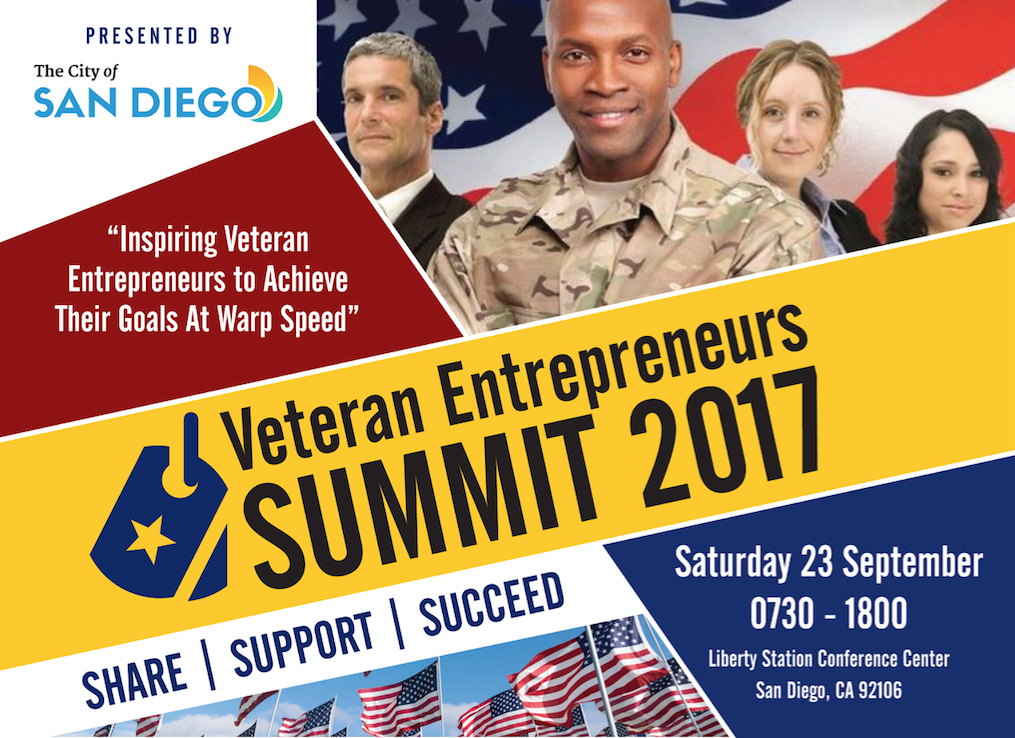 San Diego, CA — Post 9-11 veterans face a grueling job hunt, even with a brand new degree. As a consequence, many veterans and even active military are starting small businesses. A number of those businesses are destined to be multi-million dollar enterprises. Around the country veteran entrepreneurship is exploding as a topic in the military and small business world.
The Veteran Entrepreneurs Summit 2017 will be held at Liberty Station Conference Center. This unique Summit will bring together organizations & veteran business owners throughout the Southern California region to establish cooperation and coordination of services focused on veteran and military entrepreneurs. The Summit will pull those varied services together in one event for a one-stop shopping experience where diverse services can be showcased in one area.
City of San Diego is sponsoring the Veteran Entrepreneurs Summit 2017 with a generous grant of $25,000 under the City's Economic Development Funding Programs FY 2018 to further the goal "to enhance the economy and promote San Diego by contributing to the balance of business, cultural, and promotional programs. Event details can be found at https://events.nvtsi.org/. Ticket Registration is at https://www.veteransummit2017.eventbrite.com.
The Summit will provide workshops along 5 tracks, – Starting a Business, Accessing Funding, Growing Your Business, Contracting, and Franchising as well as presentations by local movers and shakers. Over 300 veterans are projected to attend, where they will network with 40 exhibitors, nationally recognized speakers and subject matter experts. Attendees will have the opportunity to brainstorm with experts in topic related round-tables.
Speakers include City Council woman Barbara Bry, Tony Perez, Vice President Product Management, GoDaddy Security Business Unit, Bob Lawrence ABC Channel 10 News Anchor, Michele Burkart, Principal Diversity Supplier Alliance, Darnisha Hunter, Community Representative District 4/ Veteran Advocate for the City of San Diego, Jim Wong, Chairman, National Veterans Transition Services, Inc, Vicki Garcia, President Marketing Impressions, Co-Founder Veteran Entrepreneurs Today, Barbara Eldridge, Founder Mindmasters. Co-Founder Veteran Entrepreneurs Today, Derric Haynie, CEO Vulpine Interactive, and many others. Press is invited to attend starting at 7:30 am and meet the presenters and veteran business owners during the day, including for a continental breakfast and networking lunch at 12:30 pm. Please RSVP by emailing vicki@veteranentrepreneurstoday.org
Background: San Diego has the highest population of vets in the country and the 3rd highest population of post–9/11 veterans in the U.S. It is also the #1 destination for veterans returning from Iraq and Afghanistan.
For several years San Diego has been named by major national publications as the #1 place to start a business in 2014. California Department of Veterans Affairs research tells us 25% of discharged veterans want to start a business. Many veterans and currently enlisted military have launched startup enterprises and many more are seeking valuable information to help them startup and succeed.
The veteran entrepreneur service ecosystem in San Diego consists of numerous non-profits, governmental, and higher learning institutions offering fragmented services that are not organized or coordinated. Additionally, there are several national organizations. This proliferation of assistance creates a daunting and confusing abundance of options.
The National Veterans Transition Services, Inc. (NVTSI) is the organizing agency along with the San Diego Veterans Coalition and the San Diego Veterans Chamber of Commerce.
For more information, please contact – Vicki Garcia, 619-660-6730, Vicki@marketing-impressions.com