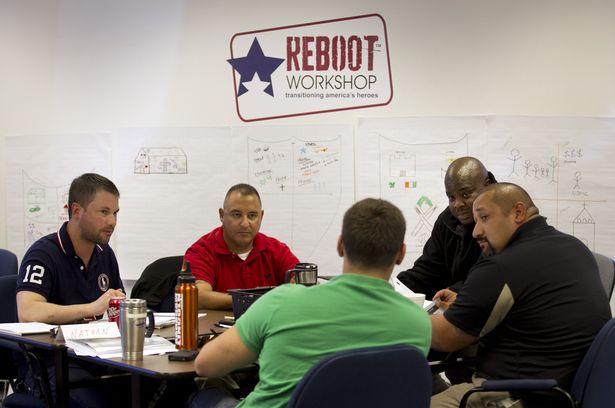 San Diego, CA – National Veterans Transition Services, Inc. aka REBOOT is planning to launch a second reverse boot camp site in Downey California (Los Angeles County) in September 2017.
Launched in 2010, REBOOT was the nation's first successful reverse boot camp that gained national attention as White House Champions of Change in 2011. Many of the elements of the revision of the military's T-GPS (Transition Goals, Plans, Succeed) were a result of a site visit conducted by the White Houses' Permanence Improvement Council in September 2011.
Since their inception, over 1500 transitioning service members, veterans and spouses have graduated from REBOOT (Reverse Boot Camp) with consistently impressive results. A staggering 97% success rate.
At the core of the program is the three-week REBOOT Workshop™ that does what no other program delivers, helps military/veterans get "personally ready" for reentry into the civilian workplace.
Beverly Smith, a recent REBOOT graduate put it best "My REBOOT experience was more than about my benefits it was about how to relearn, rebuild, rebrand, and reboot my mind."

Other REBOOT graduates, such as Paris Carter, found relief and piece of mind in addition to a job "Before the program I was more concerned with everything that was going on around me. Now, I control what is actually happening around me by changing my mindset and actually using positive thinking in my everyday life."
The popularity of REBOOT has grown over the years with many request to expand the program to other regions. As a result, Downey City Councilman Rick Rodriguez, a local businessman turned politician who recently came into office, decided that he would bring REBOOT to the region.
Plans are now underway to start the first REBOOT Workshop in September. In addition to council member Rodriguez, Serving California has committed $100,000 to help bring the program to the LA region where there are over 350,000 veterans, many of them in need of a REBOOT.
For more information, or to help support the expansion of REBOOT, contact Maurice Wilson, MCPO USN (Ret) at 619-822-2704 or Maurice@nvtsi.org