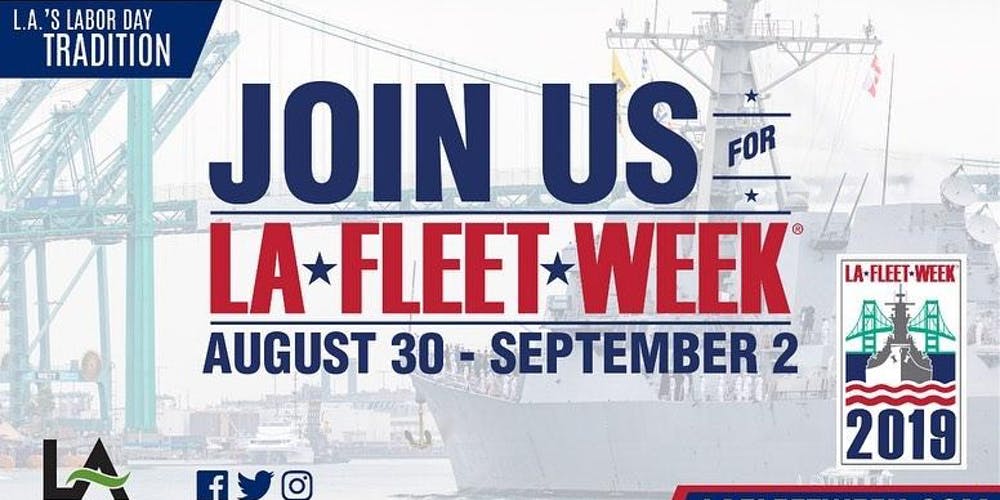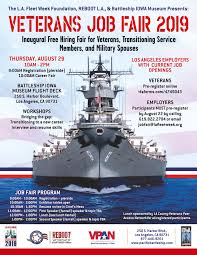 San Pedro, CA. –Hosted by the LA Fleet Week® Foundation in partnership with REBOOT L.A. and Battleship IOWA Museum, the 2019 LA Fleet Week announces an all-new Veterans Job Fair, Thursday, August 29, to be held on the flight deck of the Battleship IOWA Museum.
TheVeterans Job Fairwill be host to over 30 employers and exhibitors seeking to hire veterans living in Los Angeles County. In addition to participating in the Veterans Job Fair, employers will also be given the opportunity to become a member of OPERATION SKILLBRIDGE– an industry-driven, community-led initiative to reboot the lives and careers of transitioning service members and veterans in order to close the skills gap, promote economic opportunities, and stimulate civic engagement and coordinated access to ongoing community reintegration services for veterans and their families living in Los Angeles.
By focusing on and resolving key reintegration issues affecting veterans and the challenges employers face trying to hire them, OPERATIONSKILLBRIDGEwill help to orchestrate a predictable talent pipeline from military service to employment in priority job sectors through a joint public-private partnership providing coordinated training through multiple agencies.
California is home to over 1.8 million former service members, making it the largest veteran population of any state in the United States, and Los Angeles County is the most populous. Each year, approximately 12,000 military veterans will settle in Los Angeles County as they transition out of the military, joining the 325,000 veterans who currently reside here. For the most part, veterans in California and Los Angeles County reflect the larger national demographics, with the exception that the local population has more Hispanic and Asian veterans than the national average.
Nearly eight in 10 service members leave the military without a job, expecting to quickly find meaningful employment that provides adequate remuneration once they leave the military. Nearly a quarter of veterans in Los Angeles County with jobs are earning at or below the poverty level. Over three-quarters of those veterans without a job are not receiving assistance in finding a job. At the same time, veterans also report needing time to figure out what they want to do in life once they leave the military.
Today's military veterans have very strong personal and social military identities that while admirable and desirable can interfere with a successful civilian transition. While the insularity of military culture promotes unity and resilience for the rigors of war, it can also leave service members less equipped and less comfortable in a civilian environment.
One of Battleship IOWA Museum's objectives is to support strong economic outcomes for Veterans, transitioning Service Members, and their families through elements such as a connection to meaningful career opportunities.  To leverage best practices, tools, and technology for this population, Battleship IOWA Museum has partnered with REBOOT, a private sector organization dedicated to furthering Veteran Workforce Development.
# # #
About LA Fleet Week®
LA Fleet Week® is a multi-day celebration of our nation's Sea Services that takes place on the LA Waterfront at the Port of Los Angeles. Now in its fourth year, the event has become a Southern California end-of-summer tradition over Labor Day Weekend that attracts hundreds of thousands of visitors each year.
LA Fleet Week is organized by the LA Fleet Week Foundation, in partnership with the Port of Los Angeles and the City of Los Angeles. Other LA Fleet Week 2019 sponsors include the Ahmanson Foundation, Ambassador Frank Baxter / Alliance Alice Baxter Ready School, Anchor Brewing Company, Annenberg Foundation, AT&T, Blue Shield of California, Boeing, Chevrolet, Clear Channel, Collier Walsh Nakazawa LLP, Delta Airlines, Humana, KRLA, LA County Veteran Peer Access Network, LA Department of Water and Power, Marathon Petroleum, Outfront Media, Paramount Pictures, PepsiCo, Phillips 66, Princess Cruises, Providence Little Company of Mary, Qualcomm, Rancho LPG, Sailor Jerry Rum, Verizon, Wells Fargo, West Coast Beverage, and Westrec Marinas. For sponsorship information and opportunities, email sponsorship@lafleetweek.orgor call 310-971-4461.
For the latest updates on LA Fleet Week 2019, sign up for news announcements at LAFleetWeek.com, follow us on Facebook, Instagram and Twitter at@LAFleetWeek, or locate us using the official hashtag: #LAFleetWeek.
About REBOOT L.A. and Battleship IOWA Museum
The Veterans Job Fair & OPERATION SKILLBRIDGE are made available in Los Angeles through a joint partnership between the National Veterans Transition Services, Inc. (NVTSI) aka REBOOT and The Pacific Battleship Center – Battleship IOWA Museum. NVTSI is a California-based 501(c)(3) private sector non-profit organization dedicated to assisting veterans in adjusting to civilian life and secure meaningful employment by combining evidence-based performance training. The Pacific Battleship Center – Battleship IOWA Museum, was chartered in 2012 as a private sector non-profit organization to celebrate the American spirit through the preservation and interpretation of the Battleship IOWA, to educate the public on the accomplishments and sacrifices of American patriots, and to engage our guests in unique and exciting ways that bring the ship to life by connecting the past with the future.