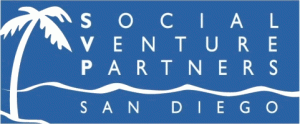 San Diego Social Venture Partners
12555 High Bluff Drive, Suite 180
San Diego, CA 92130
www.sdsvp.org
Contact
Peggy Kidd, Executive Director
(858) 724-6065 | peggy@sdsvp.org

FOR IMMEDIATE RELEASE
SAN DIEGO (March 30, 2011) – San Diego Social Venture Partners (SDSVP) will partner with the Camp Pendleton Armed Services YMCA and REBOOT (By the National Veterans Transition Services, Inc.) to help ease the burden local service members and their families face as a result of ongoing military engagements overseas. Each organization will receive grants and in-kind gifts of more than $600,000 as part of SDSVP's three year commitment to the organizations.
San Diego Social Venture Partners is a group of local professionals who donate their money and expertise to help nonprofits become successful and sustainable.
"We're excited about our involvement, and the opportunity to support their crucial missions," says SDSVP Executive Director Peggy Kidd. "The organizations couldn't be more different. One has been an anchor in the community for decades, the other is a start-up planning to scale their programs to a national level. We believe there's an opportunity for both to grow their impact."
Camp Pendleton ASYMCA is dedicated to providing support to families stationed on or near Camp Pendleton. Their programs enhance the quality of life for military families and reduce stress by providing support for junior enlisted service members, spouses and children.
REBOOT recognizes the importance of providing returning service members with an effective way to transition back to civilian life, both physically and mentally. Their intensive 3-week program provides job-related assistance and counseling.
Using the venture capital approach, SDSVP's unique model provides nonprofits with a plan for long-term success. This is especially crucial today, as the economy is requiring all organizations – especially nonprofits – to do more with less.
"What makes SDSVP different from other grantmakers is that our members stand behind our donations with their business expertise to help the nonprofits we invest in succeed," Peggy Kidd continues. "We make multi-year financial and human resource commitments and we educate our partners about philanthropy and how to best address the needs in this community."
ABOUT SAN DIEGO SOCIAL VENTURE PARTNERS (SDSVP)
Established in 2001, San Diego Social Venture Partners is a nonprofit organization of professionals who invest time and money in innovative nonprofits in San Diego County while becoming more educated and involved givers. Other organizations receiving support from SDSVP include A Reason to Survive, Audeo Charter School, ElderHelp of San Diego, Reality Changers and the Tariq Khamisa Foundation. SDSVP is an affiliate of Social Venture Partners International, with chapters throughout the United States, Canada, and Tokyo. Our network of over 1,900 members is the largest network of private donors in the world. To learn more about SDSVP, call (858) 724-6065 or visit www.sdsvp.org.
# # #