For three weeks during the bitter winter of 2015, the Grosse Pointe War Memorial had the distinct honor of preparing lunch for REBOOT, a workshop to help veterans transition to civilian life.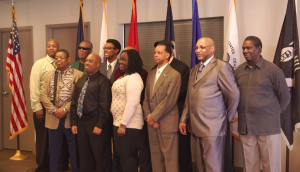 [video_lightbox_vimeo5 video_id="119853812&rel=false" width="800″ height="450″ anchor="Serving Those Who Served Video"]
REBOOT was held at Detroit's Piquette Square, a support center and apartment project for homeless veterans, from January 26-Feb. 13. The program addressed the personal, social and professional issues surrounding the often difficult transition to life after the military. And for those three weeks, GP War Memorial Executive Chef Angelo Loria drove down to Piquette Square to deliver the food made by him and his staff.
We followed Chef Angelo and his crew down for graduation day to capture the emotional culmination of this wonderful program.
Music courtesy of Mobygratis.