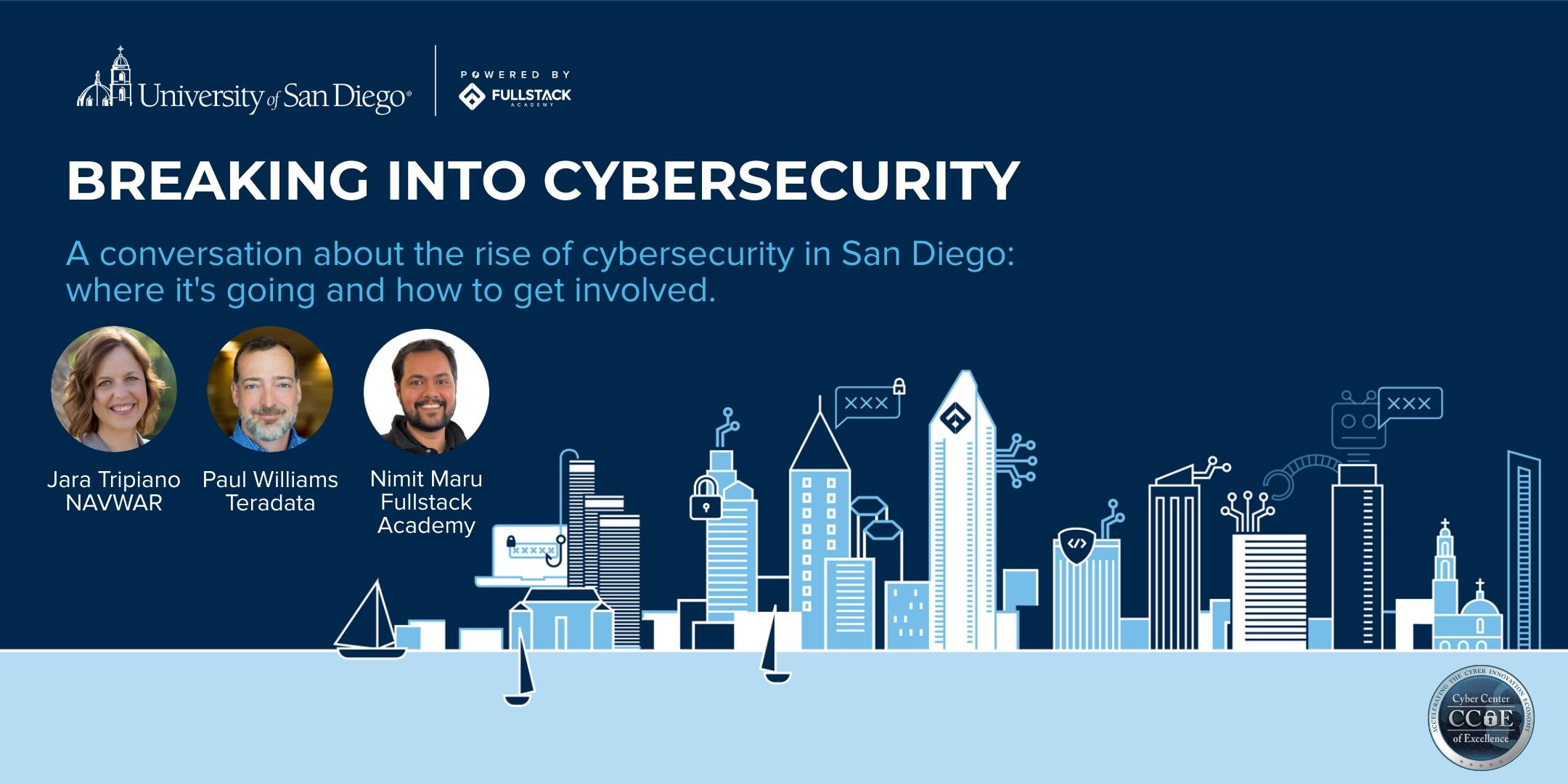 Join Paul Williams, CSO of Teradata, & Jara Tripiano, Division Head for Cybersecurity at NAVWAR, for two talks and a panel on cybersecurity.
You've heard the news: San Diego's cybersecurity sector is booming. According to the Center for Cyber Excellence, there are over 8,000 jobs in the region, and CSO reports median salaries for these jobs are 37% higher than the average San Diego salary. It's clear that now is the time to find a way into this booming scene.
But how do you get started?
Join the University of San Diego and Fullstack Academy as we address strategies for entering a career in cybersecurity, whether you're familiar with the field or a complete beginner. We'll hear from keynote speakers Jara Tripiano, Senior Scientific Technical Manager and Division Head for Cybersecurity Engineering at NAVWAR, and Paul Williams, Chief Security Officer of Teradata, both of whom have extensive experience in the field of cybersecurity. You'll have a chance to ask questions and leave with actionable next steps.
Agenda:
The Big Picture: Find out what's going on in the industry.
Origin stories: Learn how cyber professionals got to where they are.
Perspective: What new resources are out there for the next crop of cyber analysts?
*Please be advised that we may be taking photos and videos during the event and by attending you give consent for your image to be captured.
About the Speakers:
Ms. Jara Tripiano is the Principal Technical Manager for Cybersecurity Engineering at Naval Information Warfare Center Pacific (NIWC Pacific) where she works to deliver innovative and timely solutions to challenging cybersecurity issues for the Navy, Department of Defense and other agency customers. Prior to coming to NIWC Pacific, Jara was the senior systems engineer for the Navy's Tactical Networks Program Office and then for the Program Executive Office for Command, Control, Communications, Computers and Intelligence systems. Jara is a former Naval Aviator, completing two operational deployments onboard USS Bunker Hill and USS Lake Champlain. She received a bachelor's degree in Weapons and Systems Engineering from the United States Naval Academy in 1997 and a master's degree in Electrical and Computer Engineering from the University of Arizona in 1999.
Paul Williams is Teradata's Chief Security Officer, leading Teradata's digital, electronic and physical security functions. His responsibilities include managing cyber and physical security risks for the company and its customers. Prior to joining Teradata in September of 2019, Paul was Deputy Chief Security Officer and Chief Security Architect at Rackspace hosting where he was responsible for corporate security strategy and leading security modernization and transformation initiatives across Rackspace's global operations. Prior to Rackspace, Paul was a Cyberspace Warfare Officer in the United States Air Force, where he served in many operational and technical leadership roles for 26 years, including leading organizations with global networking, IT operations and cyber defense responsibilities. In addition to 30 years of operational experience in IT and cyber defense operations, Paul has a Ph.D. in Computer Science from Purdue University and spent time leading research and development into offensive and defensive cyber warfare and teaching graduate school.