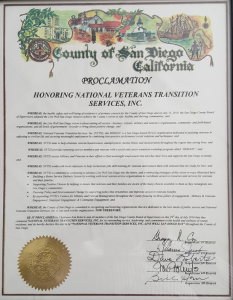 During the graduation of REBOOT class # 84's graduation ceremony on July 29, County of San Diego Supervisor Dave Roberts presented the National Veterans Transition Services, Inc. with a proclamation declaring NVTSI an official Live Well San Diego partner, and July 29 to be "National Veterans Transition Services, Inc Live Well San Diego Day" throughout San Diego County.
The Live Well San Diego initiative is about uniting all sectors — business, schools, military and veterans' organizations, community- and faith-based organizations, and all levels of government — in order to bring about positive change.
NVTSI is an example of what this initiative looks like in the nonprofit sector by building a strong veteran workforce, providing targeted employment services so eligible job seekers can identify careers that will promote their success, and preparing youth for high school graduation, post-secondary education and a career by funding youth programs and providing work-readiness training. SDWP also promotes health and wellness internally with activities like the recent formation of the SDWP softball team.
The proclamation states that the County of San Diego recognizes and honors institutions that are dedicated to the best ideals of public service, and commends the National Veterans Transition Services, Inc for its outstanding service, leadership, and commitment to the health and wellness of county residents.
"We are proud to be a Live Well partner," said retired Master Chief and NVTSI President & Executive Director Maurice Wilson. "The National Veterans Transition Services, Inc. has been a part of the County of San Diego's initiatives to support military and veterans in the region easing their transition from the military and helping them successfully reintegrate into San Diego's communities. And we look forward to expanding partnership into Oceanside and east County for the improved well-being of our region's veteran residents and their families."